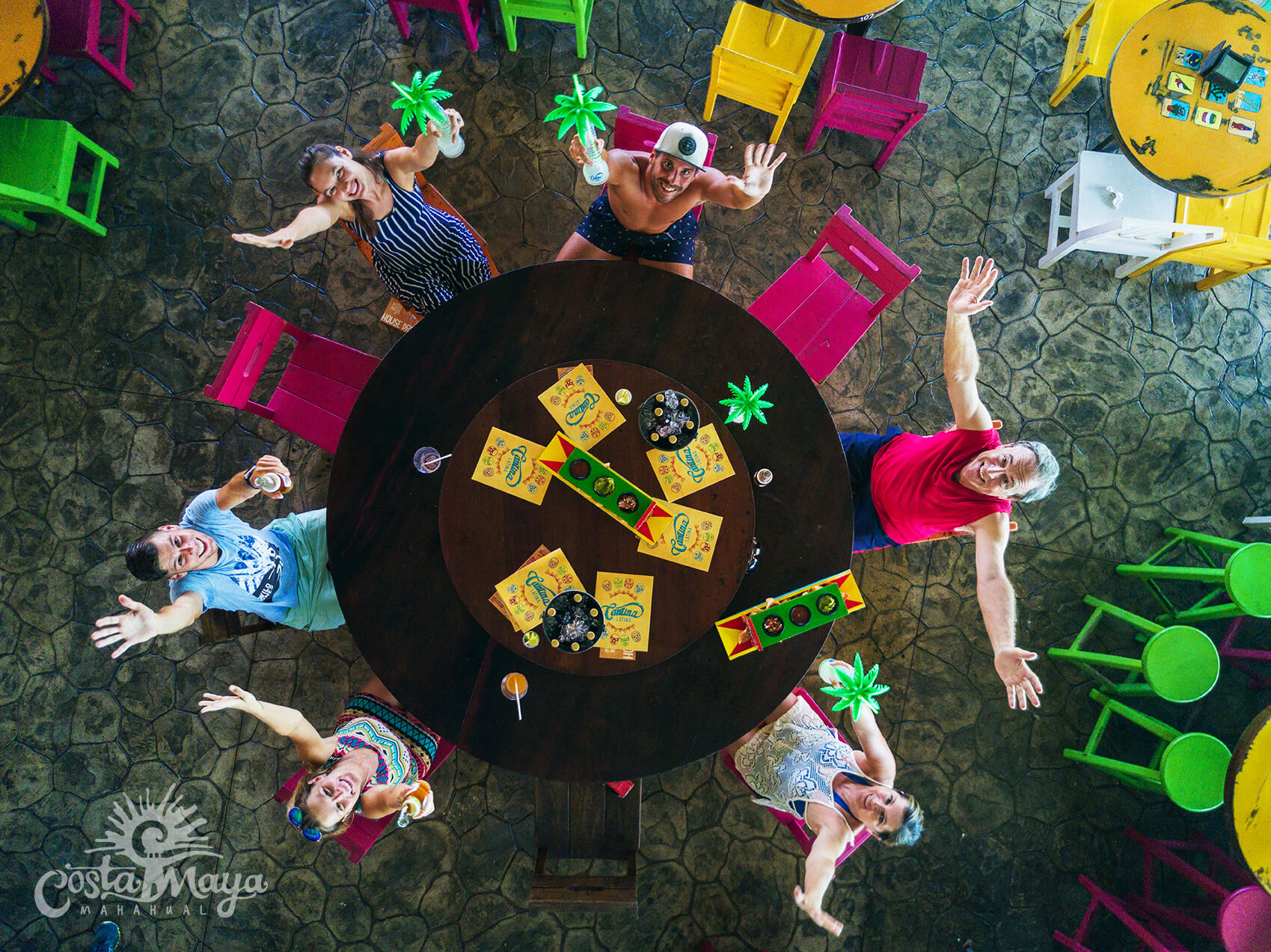 Champions of the Ring in Cantina Latina Restaurant
If there is something we are passionate about in Mexico, it's the food and accompanied with fun, even better. Therefore, in Cantina Latina we are dedicated to offer our customers the best dishes and tropical drinks accompanied with the best Mexican vibe.
With all the punch of Mexican folk culture, Cantina Latina wants to show the world the colorful tradition of Mexican Wrestling. Honoring the greatest wrestlers, the drinks are named after the champions of the golden age: Blue Demon, El Santo and Huracan Ramirez. On top of it, the dishes on the menu are a special trait for the hungriest gladiators.
If you are visiting Costa Maya, come to Cantina Latina and knock-out your cravings in 3 rounds.
Round 1: Appetizers
Start the fight boosting your appetite with a plate of cheesy Nachos. These are specially prepared to satisfy the most voracious hunger. For a full punch, order them mixed, so you can enjoy the tender chicken breast, the freshness of the shrimp and the juicy meat.
Make it a dynamic duo pairing it with a Lime Mascarita.
Round 2: Fight your cravings.
If you liked the first round, the second will also have you on the Edge. A Seafood Cocktail "Vuelve a la Vida" is probably what you need to pump up your strength. Served with Shrimp, Octopus, Calamari, Scallop, chips and our secret cocktail sauce.
Sip from a Palm Tree glass the strength of "Rey Misterio"
Round 3: Knock-out your hunger.
Ready to battle the champion? Knock it out with a Latin Grill Sampler. The juiciest Beef Skirt, tender chicken breast, a Yecapixtla dried steak, served with Guacamole, grilled cheese and refried beans.
Raise the Cup of victory filled with the powerful liquors of a Blue Demon.
The ring is yours. After a good meal, stay in to keep enjoying the Caribbean ambiance singing and dancing to the rhythms of Mexican music or if you prefer, go and explore the port to get to know more about other Mexican traditions.
Sweet tooth? A fresh baked Mexican sweet bread is waiting for you in "El Pan Dulce" where the aromatic smells of vanilla and butter will make you go back in time to those summer days in your grandma´s kitchen.