Our top 5 picks for tacos at Costa Maya
You are visiting Costa Maya and you want the whole Mexican experience, you can't get back on your cruise without eating real Mexican Tacos. Now there are a lot of ways to make a traditional taco, and it can get very overwhelming, but don't worry we have chosen the top 5 Tacos and where to get them at Costa Maya:
1.- Pastor Taco
The most popular taco in Mexico, this is a pork taco with a traditional seasoning called "pastor" which has a red-orange color. The meat is cooked vertically next to an open fire, on a rotating spade that looks like a huge spinning top.
Authentic Mexicans top this taco also with little pieces of pineapple, onions and coriander and of course, the salsa of your choice. This is a great way to start your taco journey! Just get to La Tortillería at Callejón del Sapo for this delicious dish.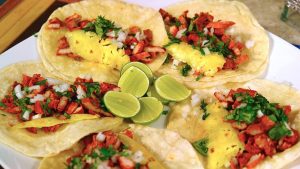 2.- Shrimp Taco
Since you're visiting the Mexican Caribbean you need to get some seafood, so try "Shrimp tacos" at Cantina Latina, our biggest restaurant in Costa Maya.
Enjoy a great time with good music and delicious tacos, accompanied with rice, fried beans, and Tomato-Pepper sauce.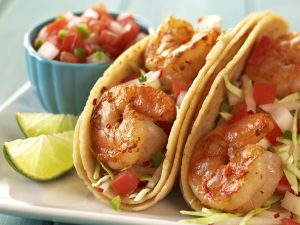 3.- Maguey Worm "al Tequila" Taco
If you are looking for an exotic spin to the taco, then our Maguey Worm "al Tequila" Tacos is as exotic as it gets. When fully mature, these caterpillars appear fleshy-red and can measure up to 65 mm (2.6 in).
They are considered a highly nutritious delicacy in Mexican cuisine, you can try this tacos if you dare at La Tortillería, part of Callejón del Sapo.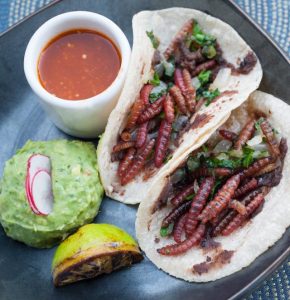 4.- Veggie Tacos
Looking for a vegetarian option? you won't be left out. Mexican food is filled with vegetables and at Cantina Latina you can ask for a Veggie Tacos and set your worries aside. You will love that spicy special sauce.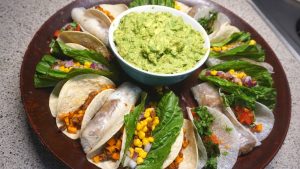 5.- Taquiza Mexicana
So many options you want to try them all at the same time. At Flavors of Mexico ask for the Mexican Tacos Sampler and you will get the most popular tacos, chicken, beef, chorizo, and pibil seasoned pork, 2 of each, accompanied by limes, slices of cactus and spring onions, a perfect option for couples.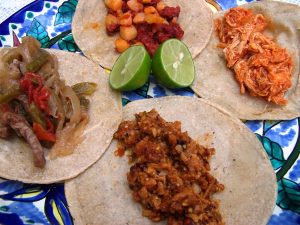 At the end of your Taco Tour, you will fall in love with Tacos. There are a lot more options to discover and many other dishes you can try at our restaurants in Costa Maya. Incredible flavors, vibrant colors, attractive smells, and that special spicy touch makes Mexican food the greatest treasure we have to offer to the world, so join us at Costa Maya and #DiscoverTheUnexpected.