Hidden Paradise
Before the arrival of the Costa Maya cruise port, the charming small town of Mahahual served the fisherman whose main economic activity was lobster and conch fishing. Today, the port and town are the hub of a thriving and fast-growing travel industry with Mexico's second largest port and a well-built infrastructure to be the strategic center of travel for the entire coast where sun, sea and adventure abound.
Handmade Vacation
With acres of unspoiled land, deserted beaches and proximity to the heart of the Mayan world, Costa Maya offers its visitors an array of options to cater to almost every type of traveler – whether you want to hop on for an adventure on a 4-wheel all-terrain vehicle, discover the secrets of the ancient Maya, dip your toes in the depths of the world's second largest coral reef or simply enjoy the view – your vacation hand-made for you.
Adventure
Thick jungle, unspoiled terrain and the roaring motors of the jeeps are the essential components for this adventure. Hop on and heed the call of the jungle. After the dust has settled and the mud slides off, all that is left if the memorie of an extraordinary and fun-filled adventure. Go deep into the Mexican Caribbean to discover the rich marine life of the world's second largest coral reef hidden underneath the blue of the sea. Splash, slide and zip across the Mayan jungle in the coast newest themed adventure park, Mayá, Lost Mayan Kingdom.
Culture
Considered one of the most popular tours in Costa Maya, the Chacchoben Mayan Ruins tour takes you deep into the heart of an ancient civilization to learn the mystery behind the Mayan cosmology. Join us on a journey to the ancient place of Mayan pilgrimage known today as Chacchoben, "The Place of Red Corn." The archaeological site has only been open to the public since 2002 and many parts of the Mayan city remain hidden by the thickness of the jungle. For travellers, the exploration of the lesser-known site is a unique opportunity to add a distinctiveness to your vacation.
R&B
The dream of sitting in an almost deserted white-sand beach is more than just an illusion, it's Mahahual. With acres of pristine beach, your r&b in the Mexican Caribbean is designed to your liking – whether you choose to spend it sitting on a beach chair with a cocktail in your hand, floating in the calm, transparent waters of the sea or simply enjoying the most amazing views – the beach is your oyster.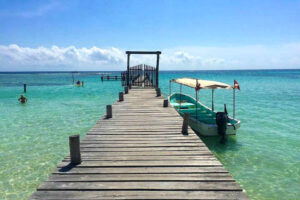 Mahahual is the last hidden paradise in the Mexican Caribbean and has been named as such by its visitors who find here the source for tranquility, culture and adventure.